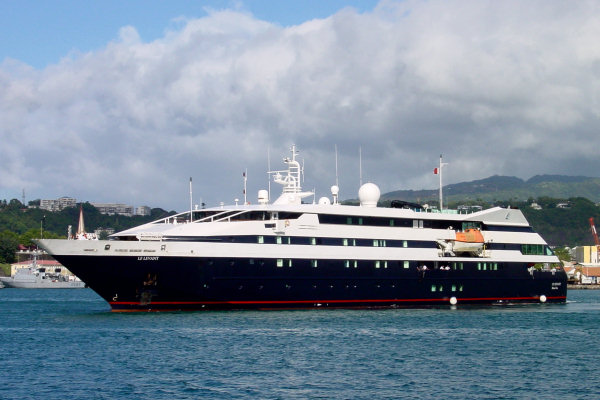 The best thing about deadlines is that they are fixed, immovable, and they get the job done. The worst thing about deadlines is they are fixed, immovable - and new stories crop up the minute a deadline has passed.
That was certainly the case with the latest edition of
World of Cruising
magazine (our Autumn issue -
see it here
). No sooner had we gone to print with issue 52 than
Paul Gauguin Cruises
announced a new ship for 2012,
MV Moana
.
The current Tahiti-based one-ship South Seas operation has been offering the
Paul Gauguin
for five years now, a deluxe one-off adventurer in this blissful region.
But now they are stepping things up with the acquisition of the sleek, 90-passenger
Le Levant
(above) from La Compagnie du Ponant, which will get a major makeover next year and then offer a greatly-enhanced range of cruises under the Gauguin banner, including the Mediterranean and Caribbean.
Moana
will begin operations in December 2012, starting with a winter season in the West Indies and Latin America before repositioning to the Med for the summer. She will offer an upmarket choice for the destinations, and add to Gauguin's reputation for a distinctive, niche style.
Diane Moore, president of Paul Gauguin Cruises, said: "We are monumentally proud to add a second ship to our Pacific Beachcomber portfolio and Paul Gauguin Cruises family. This is an incredibly huge branding achievement for the growth of our cruise line and I look forward to welcoming fans of
The Gauguin
onboard our latest addition."
The 332-passenger
Paul Gauguin
is currently undergoing a $7million refurbishment and will be back in business in January.