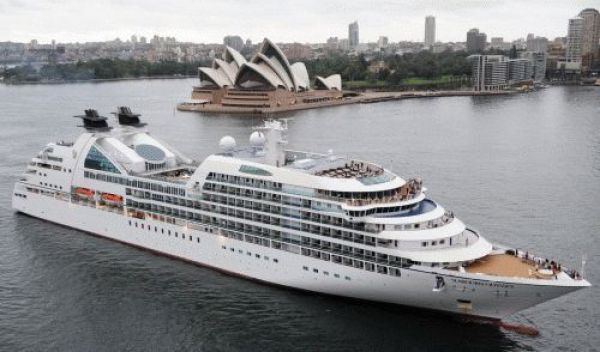 Luxury specialists Seabourn Cruise Line have announced

an impressive line-up

of distinguished celebrities, guest entertainers and lecturers for Seabourn Sojourn's World Cruise next year, boosting the line's "Seabourn Conversations" programme of onboard enrichment and special guest entertainment.
The featured guest speakers and celebrities include Tony Award-winning Broadway star Patti LuPone; former CIA operative Tony Mendez, whose heroic exploits inspired the Academy Award-winning film "Argo"; and Andrew Fairlie, Scotland's only two-Michelin star chef. Sojourn's 116-day world cruise begins on January 4 at Los Angeles and ends in Venice

on

May 1.
From historians and scientists to authors, destination and maritime experts, the exciting luminaries will share their stories, expert opinions and valuable insights to guests throughout the once-in-a-lifetime voyage. In addition, they will experience the journey along with guests, sharing meals, adventures ashore and casual chats throughout the voyage.
"Our guest speakers are as intriguing and worldly as the destinations we will visit during the world cruise," said John Delaney, Seabourn's senior vice president, marketing and sales. "Not only will they entertain and delight our guests with their talent, expertise and knowledge, they will also be a part of the daily social scene, enhancing our guests' experience."
In addition to the "Celebrity Conversations" with LuPone, Mendez and Fairlie, Seabourn Sojourn's world cruise will feature "Arts Conversations" with David Smith, photographer and travel writer; "Culinary Conversations" with Dennis Conner, an American yachtsman and four-time America's Cup winner; "Cultural & Destination Conversations" with Ronald Sampson, CBE, a former commander of the British Empire for Diplomatic Services

;

Dr. Thomas Lippman, journalist and author specialising in Middle East affairs; and "Current Affairs and History Conversations" with Ralf Vargas and Daniel Silke, foreign policy experts. A list of currently scheduled Seabourn Conversations guest speakers can be viewed
here.
The fabulous 116-day cruise will visit 53 ports in 20 countries, encompassing destinations such as Hawaii, the South Pacific and Australia, Indonesia and South-east Asia, India, Arabia and the Mediterranean. Rates for the full cruise begin at £32,599 per person, based on two sharing a suite, including round

-

trip air and a host of other complimentary amenities. For guests who cannot sail the entire voyage, shorter voyages are available from 22 days, with cruise-only rates starting at £5,040 per person, based on double occupancy.
More info: call 0843 373 2000 or visit www.seabourn.co.uk.
Have you subscribed to World of Cruising magazine yet? We have a fabulous offer for all new subscribers this year - 50 per cent OFF the regular rate AND the chance to WIN a cruise in our free prize draw offer. See this link!