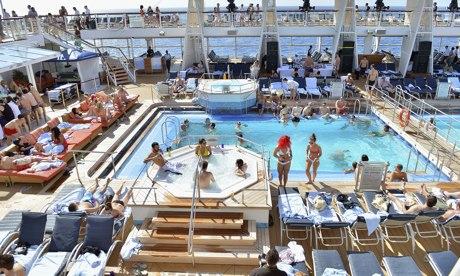 OK, it may be several years late arriving at this conclusion, but a recent story in The Observer's travel pages insists that cruising is cool and becoming increasingly popular with the younger generation.
The story (which you can see
on this link) cites a recent ABTA survey, which says that many in the 16-24 year age-group would now consider a cruise as opposed to the usual trip to Ibiza or Malia.
And it is certainly true that there are a greater number of cruise options for the teen and young adult market these days, including many speciality rock and pop cruises featuring the likes of Pulp, Papa Roach, Sister Hazel and Gaelic Storm.
There is a Rock Boat cruise, a Monsters of Rock sea-going festival and Kid Rock's "Chillin' The Most" Cruise. There is a company dedicated to rock music at sea - Sixthman - and even a nautical website devoted to following your favourite bands, ThemeCruiseFinder.com, which lists no less than NINETEEN such voyages in 2014.
But here's the catch - it's nothing new. It's just that the mainstream media have only just discovered it's happening.
That Rock Boat Cruise? It's the 14th such example, while Kid Rock is on his fifth rockin' cruise. In fact, it's just another example of what cruising has been all about - in ALL its many facets - for years.
Because cruising long since realised that they need to appeal to people across the board, not just those who retired or won the lottery. All those tired old myths about cruising? They ARE tired old myths.
So, while The Observer may think they have discovered a new phenomenon, it is all part and parcel of how cruising has been re-inventing and re-presenting itself for today's audience in the past 15 years.
And it's just another reason why you should stick with World of Cruising for all the REAL insight into this still-growing holiday type.
Have you subscribed to World of Cruising magazine yet? We have a very special, limited-time offer to save 50% off a full year's subscription, which includes six issues PLUS our new year-end Cruise Directory. That means a year's worth of Europe's leading cruise publication will be only £15. Check out the special rate on this link!